All notebooks, tablets, and smartphones are equipped with lithium ion batteries which require certain handling and labeling requirements.
First and foremost, these devices must be shipped Ground. Otherwise, additional labeling is required to prevent these devices from being transported inside passenger aircraft. These are Department of Transportation requirements and followed by all shippers.
You are also required to affix a Lithium Ion Battery Handling Label to the outside of the box. While I'm sure you don't need 350 labels, this site is the cheapest we've found for bulk labels.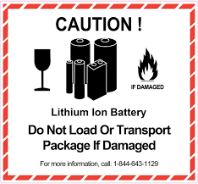 Order Lithium Ion Battery Handling Labels